Latest News
What's happening in the Early Childhood Education and Care field in Halton?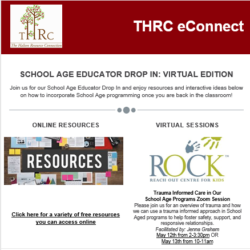 Join us for our School Age Educator Drop in and enjoy resources and interactive ideas below on how to incorporate School Age programming once you are back in the classroom! Online Resources – Click here for a variety of free resources you can access online  Virtual Sessions – Click the links below for the following[…]
Previous
Next
What We Do
The Halton Resource Connection (THRC) works in partnership with individuals and organizations who serve the interests of children and youth within the Halton community, providing curriculum resources, services, equipment, and professional learning which enhance the quality of care.

THRC offers a variety of resources and support for those working with children, youth, and their families in Halton Region.
Child Care Directory & Information Line (CCDIL)
Are you looking for quality child care in Halton Region?