Latest News
What's happening in the Early Childhood Education and Care field in Halton?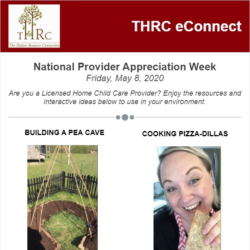 National Provider Appreciation Week May 8th, 2020 Are you a Licensed Home Child Care Provider? Enjoy the resources and interactive ideas below to use in your environment. Click here for Cooking Pizza-Dillas video and click here for the full recipe. Click here for full articles for Paint your Plate for full article or for tool[…]
Previous
Next
What We Do
The Halton Resource Connection (THRC) works in partnership with individuals and organizations who serve the interests of children and youth within the Halton community, providing curriculum resources, services, equipment, and professional learning which enhance the quality of care.

THRC offers a variety of resources and support for those working with children, youth, and their families in Halton Region.
Child Care Directory & Information Line (CCDIL)
Are you looking for quality child care in Halton Region?