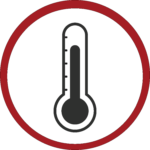 Developmental Temperature Taking
Learn more about child development, developmental surveillance tools you can use, and activities to recommend to parents.
2. Developmental surveillance tools
The Early Years Check In
The Early Years Check-In is a series of rating scales that asks you to rate your level of concern regarding how your child is developing. It can be completed for children 18 months - 6 years. The Early Years Check-In is not a diagnostic tool.
Communication Checkup
The Communication Checkup is an online screening tool created for parents and legal guardians living in Halton and Peel regions. The tool can also be used by educators in the community to screen children in their care.
4. Activities and Resources for Parents
Visit Play and Learn for activities to support development, a parent resource