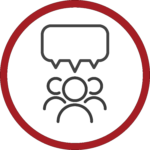 Conversations with Parents
There are times in our lives where we are asked to gather our courage and our interpersonal skills, and forge ahead into sensitive conversations with others. These are required of us both personally and professionally from time to time and can be emotional or uncomfortable. The following are some tips to consider and some links/resources you may find helpful. Be yourself, be authentic, and be prepared.
REST - Relationships, Empathy, Support, Timing
R: Relationships
Relationships are the one of the most important aspects of successful conversations. Sensitive discussions are better received and processed when there is a sense of caring, honesty and trust between the parties. When others believe you are on their side and care, the conversations tend to be easier and better received in the long run. Take some time to build a relationship.
E: Empathy
Empathy is an essential skill when entering a sensitive conversation.  Even the mere suggestion of a child's challenge may change someone's life.  Critical feedback of a co-worker can be perceived in many ways and not always as intended.  Work hard to reflect and really think about the effect your conversation might have on others and how you might feel if you were in their shoes.  Remain empathetic even if they lash out angrily.  It is a common response and usually not personal.
S: Support
Support is critical. Part of sensitive conversations involves helping others to hear and understand what has been said and then move to what happens next. Document specific examples of your concerns that allow you to speak to fact not opinion. If appropriate, have resources at hand, offer to help connect others with what they need, show them how to advocate and be there just to listen. Check in from time to time so they know they are not alone.
T: Timing
Timing is key. Be mindful of how long your conversation might take, and allow for more time. These conversations can be lengthy if those involved are able to process what is being said. Alternately, sometimes people will need time to digest and process, and follow up will be required. Be aware of everyone's schedules and ensure you are not rushed. Drop off and pick up times for example, are not ideal for having a meaningful conversation. If you initiate the need for a conversation, be prompt and schedule it quickly so not to create undo stress on others. Ask when a good time to meet would be. Be mindful of what else might be going on to ensure you are not overburdening others.
Simple Phrases for Consideration
Engaging in sensitive conversations does not have to be difficult. Use these ideas to kick start your discussion.
Starters:
Thank you so much for making the time to meet. I want to assure you that we are here to help and work with you to support (child's name) growth and development.
First, I want to let you know that we are here as supports for your family and we know that you are the experts and know (child's name) the best. We will listen to your ideas and perspective and will only offer suggestions for your consideration.
We hope we can have an honest and open conversation and our sole interest is in supporting (childs name) growth and development and your family.
I believe all families come with strengths and we will focus on those, and work together from this perspective. You know your child and family better than anyone.
This conversation will be held in the strictest confidence.
Middle:
Are you wondering about any aspect of (child's name) behavior/abilities/ development?
What do you think might be helpful for (child's name) and your family? How can I help you?
What have you noticed about (child's name) ...? Insert one or two of your areas of concern with concrete examples, ie. play with others, manage his feelings, pick up small objects.
We have noticed (state ONLY concrete observations preferably with appropriate detail) and feel that (child's name) might benefit from some extra support in this area. What do you think/how do you feel about this? Have you noticed anything similar at home or in other situations?
Have you tried anything at home that has had some success even just a little?
Are there things that you know do not work for (child's name)?
End:
So to summarize.........
Have I got this right?
What do you feel are the next steps?
What would be most helpful to you right now?
How can I help?
Let's check in again in (give concrete time frame/date)
I will make some notes and share them with you. Shall I email them or would you prefer a hard copy?
Thank you so much for your time and I appreciate your (insert appropriate words) ie: honesty, openness, ideas, etc.
Who else could we bring in to help? This could be other agencies, family members, friends etc.
Empathy Statements:
I can see how upsetting this is for you. Take your time
This is difficult to hear I know. I am here for you and we will do this together.
Crying is a wonderful way to express your feelings. This is a safe place to do that.
This has been a lot to think about. Let's stop and take some time to digest and chat some more tomorrow.