The Importance of Outdoor Learning

LEAF THREADING ACTIVITY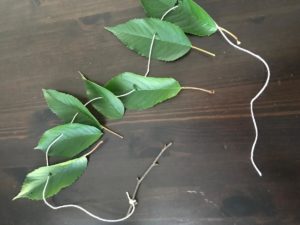 The Leaf Threading Activity can be found in the book
Nature Ideas: Explore...Discover....Connect
by Diane Kashin & Beverly Dietz
Materials needed: sticks, leaves, hole puncher, string, baskets
Description of Activity
Create a number of natural needles by attaching string to small sticks. After the children have collected baskets of leaves, they can punch holes into the leaves so that they can be strung with the natural needles. During the creation of the strings of leaves children may consider and compare the length and number of leaves used to acquire the desired length for their leave display.
How long is your leaf string? How many leaves are on your string? Once the children have created their strings, discuss where these can be hung and displayed.
Invitation
Have stick needles and baskets displayed in the outdoor environment. Invite the children to collect leaves using the baskets.
Learning/ Development
Stringing leaves supports children's fine motor development as well as opportunities for mathematical and scientific inquiries
NEW FOR SALE ITEMS AVAILABLE AT THRC!
Visit the Resource Library for our new program enhancer: Not a Stick
This includes the "Not a Stick" book along with an information and inspiration sheet, a make your own booklet and sticks.
Explore the Resource Library with our resources to support your
Outdoor Environment!
**Cost to purchase Not a Stick program enhancer $15**
RESOURCES AVAILABLE TO BORROW AT THRC
Creating and Building with Tubes and Pipes, Bin #9011

Mud Kitchen with Literacy Resources, Bin #2171

A Picnic with Loose Parts, Bin #9011

Tools for Scientific Investigation, Bin #223
ADDITIONAL RESOURCES
TAKE ME OUTSIDE DAY - OCTOBER 19, 2022
Take me Outside works collaboratively with other organizations, school boards and individuals to encourage children and youth to spend more time outside through various projects and initiatives.
LOOSE PARTS NATURE PLAY PODCAST
Building creativity one leaf and bolt at a time. Join Dr. Carla Gull, educator and mother of four boys, as she talks about getting outside and exploring loose parts.