Relationships First
July 20, 2021 from 6:30PM - 8:00PM
In this session, we dive into the Developmental Relationships Framework and why relationships come first with children and Youth. Let's explore how to support children and youth forge identities, learn new skills, and strengthen the roots of their success.
Click here to learn more and Register
Exploring Indigenous Song and Dance
July 21, 2021 from 2:00PM - 3:30PM

This month Elders, Knowledge Keepers and early years professionals will share and discuss ways in which we can welcome traditional songs and dancing in early years environments.
Be sure to register by Monday July 19, 2021 at 12:00 pm EST.
Mixed Media: Colour Kit Session with ACT
July 29, 2021 from 6:30PM - 8:00PM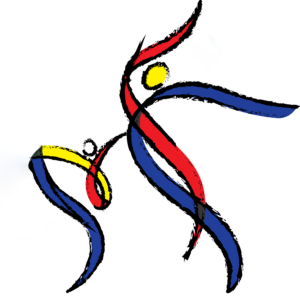 Join us for the exploration of this kit featuring the water responsive materials of bleeding tissue paper, aqua pen and water-soluble oil pastels which allow for play with the concepts of cause and effect, and transition of properties of materials.
Cost: $10
Additional Resources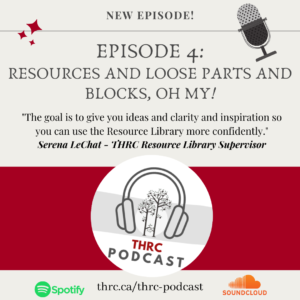 Episode 4: Resources, Loose Parts and Blocks, Oh My!
In this episode, we sit down with Serena LeChat, Supervisor of THRC's Resource Library to chat about resource bins, blocks, adventurous play, loose parts, professional learning and more.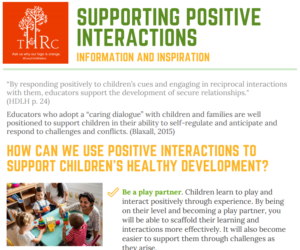 Inspiration Sheets: Supporting Positive Interactions
THRC's Information and Inspiration Sheets provide educators with concrete ideas and relevant information to support early learning and child care environments.
Resource Bin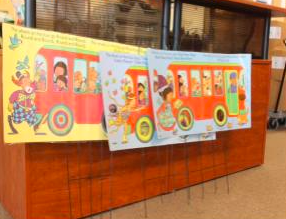 "The Wheels on the Bus" StoryWalk® BIN # 11121
Sign out this interactive Loose Parts Wheels on the Bus resource. Post it on trails, paths and playgrounds and explore the props provided to "play" out the story. This resource is great for physical literacy, gross motor and social skills and a great way to get children interacting outdoors.