Puddle Jumping Sight Word Game - Fantastic Fun & Learning
Get outdoors this spring (or stay inside if it's really raining) to practice reading with this fun gross motor sight word game for preschool & kindergarten.
The chill factor in this fast-paced race makes it much cooler than your average dress-up game. Before the contest, prepare a T-shirt for each participant by soaking it with water, wringing it out, and folding it. Placing waxed paper between each one, stack the folded shirts on a baking sheet and freeze them. When they're stiff, hand them out to the players. The first to get into their frozen tee wins!
How to make a cloud in a jar!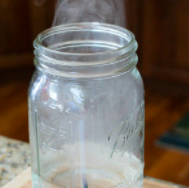 Items for First Method:
A jar with lid, About 1/3 cup hot water, Ice, Hairspray
Items for Second Method:
A jar, A match, A balloon with the bottom cut off, Warm water
A flashlight
How you can support recent graduates of Early Childhood Education programs
Early Childhood Education is a care and relationship-based practice. To support the well-being and holistic development of children, RECEs need theoretical knowledge about child development, curriculum and pedagogy, for example, and the skills to apply that knowledge in practice.