Reflections on Quality is an invitation to reflect by Anna Nguyen-Sgro, Quality Specialist, Children's Services, Halton Region
As tens of thousands of school aged children across Halton Region begin or "head back to" school after the
summer holidays, many will also participate in a before and after school program. Programs for school aged
children may be situated at the child's school, at a centre-based child care program, with a home child care
provider or at another location in their community. While the importance of quality child care in the early years
is a reoccurring theme in research, the significance of quality in programs for school aged children cannot be
understated. For many families, it is during the 6 to 12 age range when the demand for child care increases,
as many parents and caregivers enter the labour force once their children are of school age. Furthermore,
research suggests that how children spend their time outside of school hours has important implications on
their education and development (Ashcraft, 2005).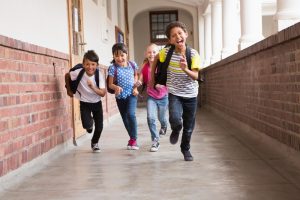 It is well known that early childhood is an important period of life when children's brains and bodies are growing at a rapid pace. The period of middle childhood is an equally important stage, as it is a time when children acquire foundational skills for building healthy social relationships and later success. Research suggests that high quality afterschool programs can have strong positive effects on children's health, academic, social, and emotional lives, especially for those who are at-risk. Some studies have even pointed to the notion that what students do during the out-of-school time hours has as much impact on their success as what they do during the school day (National School Board Association, 2005). Whether children spend time at a before and after school program in school, child care centre, home or in a recreation program, quality is of utmost importance. Participation in a high quality after school program can improve young people's self-confidence, self-esteem, academic achievement, resilience and can reduce problem or risk-taking behaviours (Durlak, Weissber & Pachan, 2010).
In "Best Practices: Guidelines for School Age Programs", Ashcraft (2005), suggests that high quality
programs for school age children feature:
Caring, authoritative, trained, committed and competent adults
Positive child to staff relationships
Positive child to child relationships
A balance of academic and developmental skill-building activities
High levels of child engagement
A focus on mastery of knowledge and skills
Appropriate structure and boundaries
Opportunities for autonomy and choice
Collaboration between schools, community based, organization and the larger community (page 6)
How do these indicators of quality fit with your vision of school age programs?
Invitation to Reflect
How might you build strong relationships with children, families, your colleagues and the school community this school year?
How might you create a physical and social environment that fosters belonging, well-being, engagement and expression?
Read and reflect on Dr. Jean Clinton's discussion of relationships in Think, Feel, Act (page 8) and the importance of connecting with school-aged children. How might you focus on connection right from the start of the school year?
How can tools such as the "Best Practices: Guidelines for School Age Programs" and the School-Age Care Environment Rating Scale (SACERS) support your program's quality growth?
How can your home child care program support the school age child?
In what ways does/might your program foster developmental assets for the children in your program?
The Halton Resource Connection has a number of upcoming professional learning opportunities for School Age Educators in Halton:
October 5, 2017………… Examining Session: SACERS
October 13, 2017………. School Age Professional Learning Day
October 31, 2017………. School Age Community of Practice
November 8, 2017 …….How Does Learning Happen? School Age Inquiry Group
November 29, 2017….. School Age Series: Connecting with the School Age Child
December 18, 2017…… School Age Community of Practice
For more information, please see the THRC publication.
Anna Nguyen-Sgro, RECE, MA


Quality Specialist, Child Care System
Halton Region, Children's Services
[email protected]