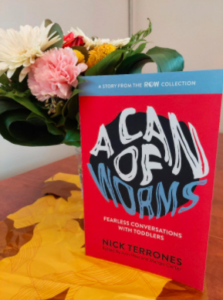 With courage and care, we can connect with children at the level of curiosity and meaning. Written with trust in the wisdom and capacity of young children and the adults who care for them, and with belief in what is possible when children and adults come together in these electric moments, A Can of Worms is a guide and support for celebrating these most important conversations. Have no fear! Take a deep breath, and respond." – Child Care Exchange
Dates: January 27, February 3,
10 & 17, 2022
Time: 12:30pm - 1:30pm
Cost: Members $10
Non-Members $20
Shelley Moore is a Canadian inclusive educator and consultant, who uses storytelling to inspire and engage others. "One Without The Other: Stories of Unity Through Diversity and Inclusion" explores the changing landscape of inclusive education through personal stories that will have you laughing out loud. Through facilitated discussion and critical reflection, we will examine and explore our own ideas and practices about diversity and inclusion.
Dates: January 12, 19, 26 &
February 2, 2022
Time: 6:00pm - 7:30pm
Cost: Members $10
Non-Members $20