In-centre support offers services and support to build the capacity of educators and teams within the child care centre.
The In-Centre Support team consists of both Support Facilitators and Preschool Facilitators.
Support Facilitator

A Support Facilitator provides short term support for educators under the guidance of a Resource/ROCK consultant to support child care centres in building inclusive skills. Through coaching and consultation, with a focus on reflective practice, the Support Facilitator and Educators will develop skills and strategies that support inclusion such as; routines and transitions, challenging behaviour, self-help skills and self-regulation skills, social interactions, utilizing visuals, and functional play skills.
Preschool Facilitator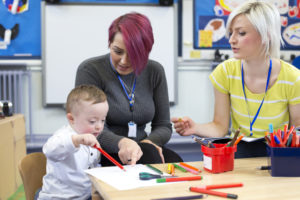 A Preschool Facilitator provides short term, consistent coaching and consultation around class wide goals and strategies decided on collaboratively by the team. Through modeling, coaching, and reflective conversations, educators will develop skills and strategies such as: classroom arrangement, challenging behaviour, routines and transitions, observation and documentation, self-regulation, and implementing the How Does Learning Happen? pedagogy.
Facts About In Centre Support