We continue diving into the world of Diversity, Equity, Inclusion and Belonging by exploring Gender Identity with Jenn Lee, a non-binary RECE in Halton. Jenn shares their experience of discovering their gender identity and supporting young children to understand and accept all identities in the early years.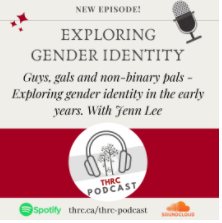 Exploring Gender Identity
Listen in as Jenn Lee, Halton Educator, shares personal experiences exploring gender identity in the Early Years.

Pflag Resources
Pflag Canada is proud to be Canada's only national organization that offers peer-to-peer support striving to help all Canadians with issues of sexual orientation, gender identity and gender expression.